TIMELINE

11,500 B.C.
Clovis hunters kill mammoths at end of Ice Age
10,000
Folsom hunters chase giant bison
7,000
Plains Archaic hunters move into region
3,000
Plains Archaic peoples carve petroglyphs
200
Woodland peoples build mounds
A.D. 1000
Middle Missouri people begin farming
1300
Coalescent peoples enter South Dakota and Little Ice Age begins
1492
Columbus sails to America
1700
Arikaras, Cheyennes, Crows, Lakotas, and other tribes live in South Dakota
1743
LaVerendryes visit South Dakota
1776
Revolutionary War begins
1785
Pierre Dorion settles in South Dakota
1787
U.S. Constitution written
1804
Lewis and Clark Expedition begins
1913
Students find La Verendrye plate
Lesson 2
A Changing World
Milder winters and summers came to South Dakota. It was about one thousand years ago. Villages sprang up along the rivers. One village was near present-day Mitchell. Here, people built wattle and daub houses. They wove twigs together and covered them with clay or mud. These buildings had long walls dug into the earth. Men hunted bison, but women began something new. They became the first farmers in South Dakota.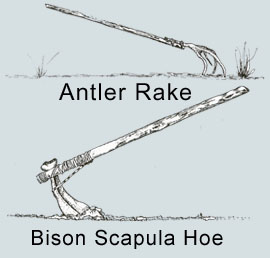 Figures redrawn by Lynet Dagel from Gilbert L. Wilson, Agriculture of the Hidatsa Indians, copyright 1983 by the South Dakota State Historical Society. Used with Permission.
The women grew corn, beans, sunflowers, tobacco, squash, and pumpkins. They made rakes, hoes, and knives from bones and antlers. They cooked in large clay pots. They dug cache pits for storing food. These farmers and hunters are now called the Middle Missouri people. They were the ancestors of the Mandans.
Then the climate changed again. It was about A.D. 1300. Archaeologists call this time the "Little Ice Age." Winters grew long and cold. Farming was harder. New tribes moved into South Dakota. They came from the south and went up the Missouri River. They settled near the Middle Missouri people.
Two hundred years passed. Many native peoples now lived in South Dakota. Small towns dotted the banks of the Missouri River. Here the Arikaras built rounded houses. They dug them into the earth. They used tree branches and clay for the roofs. The Arikaras traded corn, vegetables, and tobacco for meat and buffalo hides. They traded with the Mandans to the north. They also traded with the Crows, Cheyennes, and Pawnees, who lived west and south of the Arikara villages. Soon the Arikaras were also trading horses. Europeans brought horses back to America. These animals would change the life style of the people of South Dakota.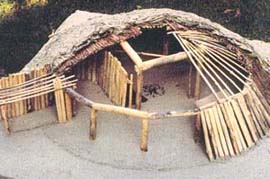 Photo courtesy of State Archaeological Research Center, South Dakota State Historical Society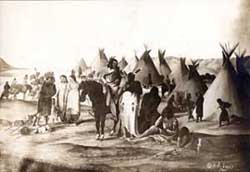 Photo courtesy of South Dakota State Historical Society
Our earliest written record of the Dakota, Lakota, and Nakota (Sioux) peoples dates from the 1640s. French priests met them in what is now Wisconsin. The people fished and hunted in deep forests. They lived in houses made of bark and wood. Within a few years, they began to move west toward South Dakota. Three groups came to the Great Plains. Each had different customs and languages. They all learned to ride horses and hunt buffalo. They lived as nomads on the prairie. Soon, the Dakotas, Lakotas, and Nakotas pushed the Arikaras north. They pushed the Mandans, Cheyennes, and Crows farther north and west.