Timeline

1802
Fort Aux Cedres built
1806
Lewis and Clark revisit South Dakota
1812-1815
United States and Great Britain are at war
1823
Arikaras attack fur traders
1832
Fort Pierre built
1851
Eight tribes meet with United States at Fort Laramie
1858
Yanktons sign treaty with United States
1861
Dakota Territory formed
1865
Red Cloud's War begins
1868
Fort Laramie Treaty signed
1874
Custer leads expedition to Black Hills
1877
Black Hills opened to settlement
The fur trade along the Missouri River changed. Beaver and other small animal pelts were less important. Traders wanted buffalo hides and robes. They also wanted buffalo tongues. People on the East Coast ate them as delicacies. Thousands of pounds of buffalo tongue sailed down the Missouri River each year. The Tetons, or Lakotas, made good profits from this trade. Their camps were close to the buffalo. They were also close to the trading posts. They grew rich with trade goods—rifles, food, and tools.
Yet the fur trade also brought conflict. Indian nations fought over it. American traders did too. The two groups also fought each other. Everyone wanted to control this booming business. The United States government built a military post. It was near Council Bluffs, Iowa. Soldiers there kept an eye on the fur trade.
Trouble broke out four years later. It was 1823. The place was near the mouth of the Grand River. The Arikaras fired on a group of American traders. Soldiers from Fort Atkinson marched north. They were going to punish the Arikaras. Fur traders and Teton warriors joined with the army. The Arikaras slipped away in the night. Their village was burned.
Soon the United States sent an official commission to the area. These men met with the Indian tribes. They negotiated with the leaders. They asked them to sign treaties of goodwill. Leaders from the Arikara, Cheyenne, Yankton, and Yanktonnais tribes signed. Some Teton leaders did too. These were the first treaties between the United States and these Indian nations.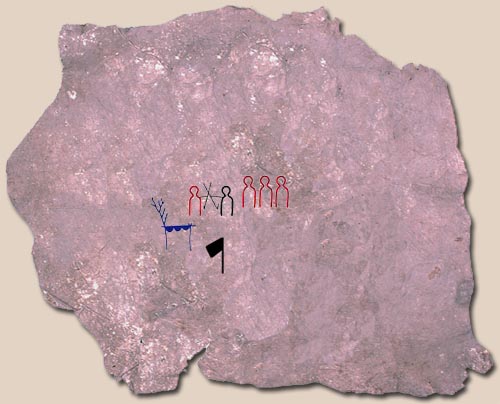 Winter Count